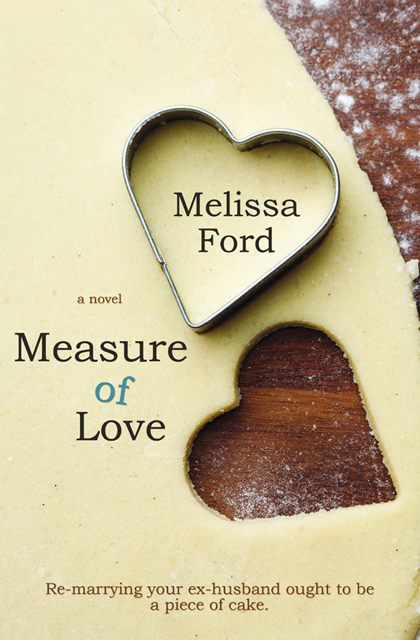 The sequel to the bestselling novel, Life from Scratch; a story of three weddings… or weddings not-to-be…
It may be her second time getting married, but Rachel Goldman is definitely navigating a sticky relationship with her mother-in-law-to-be.  A tug-of-war between the editor of her soon-to-be-released divorce book asking her to keep her relationship on the down low for sales-sake and her society-obsessed mother-in-law eager to get a featured story in the wedding section of the New York Times leaves Rachel's head spinning.  Throw in a sister-in-law-to-be navigating her own upcoming nuptials as well as a friend who not only doesn't want to get married but is possibly having an affair, and Rachel finds herself with too many pots simmering on a very familiar stove.
Praise for Measure of Love
"Measure of Love should be required reading for anyone considering marriage, and considering marriage as Melissa Ford does should be required of those of us who are already married. Hilarious and heartbreaking, reassuringly neurotic and grounded in down-to-earth prose, Measure of Love is a thoroughly wise, heart-gripping, modern love story. Before you write (or dust off) your vows, or decide to live unmarried until death do you part, vow to read Measure of Love; its deceptively simple message — to re-fall in love over and over again — will stay with you happily ever after."

–Suzy Becker, author of One Good Egg
"In this winsome novel, Melissa Ford manages to capture both the unbearable fragility of life and the reliable solidity of love. May we all learn the lesson of Melissa's Rachel: that we can be scarred and scared, and yet still be open to the redeeming beauty life sends our way."

–Stacy Morrison, author of Falling Apart in One Piece
Purchase Measure of Love
You can purchase Measure of Love at bookstores, or online at Amazon, Barnes and Noble, Kobo, or Amazon affiliates around the world.
Talk about Measure of Love
Discuss Measure of Love on Goodreads.
Excerpt of Measure of Love
I roll over in bed and let my hand rest on one of the creases in the sheet, a tiny mountain that my fingers curl over like the legs of a giant. I am alone, so it doesn't matter if I gather all the blankets over my body or grab the second pillow on the other side of the bed. This is one of those benefits of being single, Rachel, my body purrs silently.
Wait. Except that I'm not.
My brain slowly swims closer to consciousness, taking in the fact that light is streaming in through the uncurtained windows. I am wearing a T-shirt—several sizes too big—that advertises some pizza place in the Hamptons as well as a pair of cotton briefs that I picked up three-to- the-pack at a warehouse savings store that looked semi-sexy in the packaging but not so much in actuality on my body. The other side of the bed has a small dip in the mattress, the memory of the body that occupied the space minutes ago. And there is water running from the bathroom shower head, a light sound like paper tearing.
I open my eyes and look around the room, still half-expecting to see my familiar loft apartment, but instead find myself staring at a door. With a knob. And luxurious-by-New-York-standards plaster walls as opposed to the screen I used to wrap around my bed to create the illusion of a room. The closet door is half open, exposing the bins that line the wall holding the yoga pants I prefer to wear while I cook or write. On the floor, kicked casually into the corner of the room, is a pair of men's jeans and size 11 lace-up black oxfords. Remnants of the pre-sex shedding of clothes.